AVer Information Inc. Celebrates Zoom Certification for PTZ300V2 Series Professional PTZ Cameras
Fremont, CA - September 28, 2023
AVer Information Inc. USA, Fremont, CA — September 28, 2023 — AVer Information Inc. USA, an award-winning provider of video collaboration and education technology solutions, is pleased to announce that its PTZ300V2 Series has achieved Zoom Certification. This certification is a testament to the exceptional quality and performance of the PTZ300V2 Series, which includes the PTZ310UV2, PTZ310UNV2, PTZ330UV2, and PTZ330UNV2 models.
The Zoom Video Communications, Inc. team works alongside established third-party labs and hardware partnerships for testing of Zoom Certified hardware. The Zoom Certified badge lets customers know that the device they are purchasing has been certified as being compatible with Zoom services.
The PTZ300V2 Series represents a new standard in professional PTZ cameras, designed to elevate your streaming content to the next level. With features such as 4K 60 fps HDMI/USB/IP outputs, a 12X or 30X optical zoom lens, and SmartShoot functionality, these advanced streaming solutions offer unmatched versatility and quality.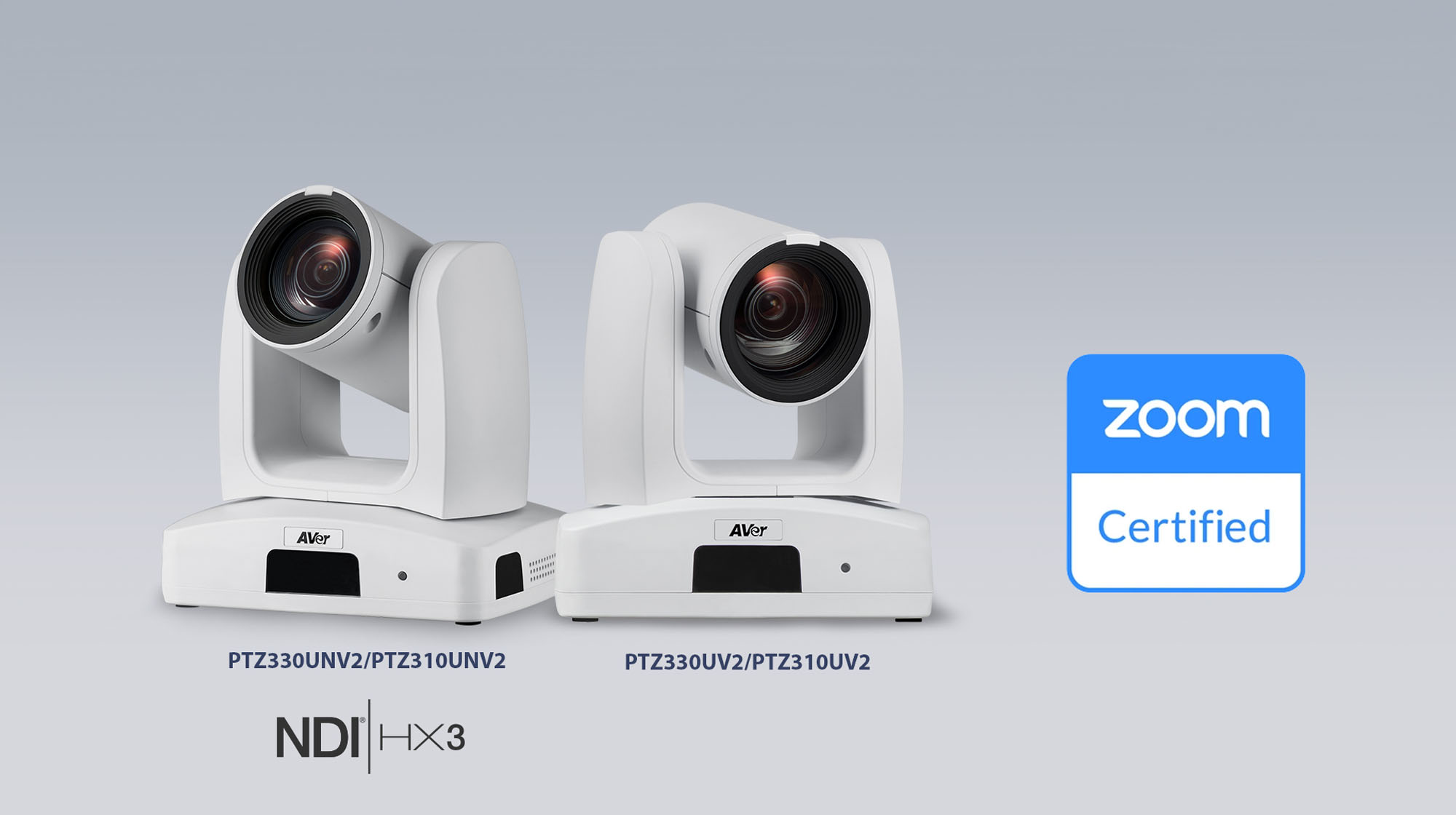 4K Ultra HD: A New Level of Clarity
The PTZ300V2 Series is equipped with an industry-leading Sony sensor and 4K Ultra HD super-high resolution, transforms every streaming experience from ordinary to stunning. An advanced image processor optimizes the quality of every shot, whether it's a close-up or an extreme long shot.
HDMI/USB/IP + 4K 60 fps: Smoother Streams
The PTZ300V2 Series is praised by NDI® for its real 4K 60 fps streaming capabilities via HDMI, USB, and IP outputs. The seamless integration of these outputs eliminates complicated settings and tangled cords, ensuring a smooth and hassle-free video streaming experience.
0.1° to 200° Per Second Precision: Pro Camera Control
Customizable movement speed settings, ranging from 0.1° to 200° per second, provide high-level agility and precision for ultimate motion control during streams. This level of control enables you to capture extraordinary footage that dazzles your audience.
SmartShoot: Keep People and Content in Focus
With embedded SmartShoot technology, the PTZ300V2 Series employs real-time Human Detection to automatically track up to four preset zones. The camera seamlessly switches focus between zones as presenters move, delivering consistently clear images of them and their content.
PTZ Link: Bring Voice Tracking to PTZ Cameras
PTZ Link software allows you to connect PTZ Cameras to microphone systems, turning your AVer PTZ Camera into a voice tracking camera. Set preset areas that enable the camera to automatically switch focus between different speakers, achieving seamless camera and audio integration for top-quality streams.
"Zoom is pleased to certify these Pro AV PTZ cameras for use with Zoom Rooms and anywhere a professional video experience is required,"



"AVer is dedicated to offering a camera for every room and Zoom certification is essential to ensure superior video collaboration,"




"The PTZ300V2 series combines Zoom video conferencing and NDI options to provide great content sharing capabilities for our customers."
To learn more about AVer's lineup of distance learning and PTZ cameras, visit averusa.com.
Zoom is a trademark of Zoom Video Communications, Inc., registered in the United States and other countries.
About AVer Information Inc.
Founded in 2008, AVer is an award-winning provider of education technology and video collaboration camera solutions that improve productivity and enrich learning. From accelerating learning in the classroom to increasing competitive advantage for businesses, AVer solutions leverage the power of technology to help people connect with one another to achieve great things. Our product portfolio includes Professional Grade Artificial Intelligence Enabled Auto Tracking Cameras, Zoom and Microsoft Teams Certified Enterprise Grade USB Cameras, Document Cameras and Mobile Device Charging Solutions. We strive to provide industry leading service and support that exceeds our customer's expectations. We are also deeply committed to our community, the environment and employ stringent green processes in all we do. Learn more at
averusa.com
and follow us
@AVerInformation
.
Press and Media Inquiries
James Salter
Senior Vice President of Marketing
AVer Information Inc. Americas
P: +1-408-687-5781
E:
james.salter@aver.com
Go Back