AVer Releases 4K 21X NDI® AI Auto Tracking Camera
The AVer TR323NV2 PTZ Camera Includes Body, Voice and Hybrid Tracking Modes
Fremont, CA - July 20, 2022
AVer Information Inc. USA, the award-winning provider of video collaboration solutions and education technology solutions, today announces the releases of the TR323NV2 4K 21X NDI® AI Auto Tracking PTZ Streaming camera, the latest in its lineup of artificial intelligence tracking cameras with NDI support included.
The TR323NV2 includes 21X optical zoom and an 8MP camera with 4K Ultra HD. Like the other newest generation TR models from AVer, it features built-in advanced artificial intelligence (AI) technology with a Human Detection algorithm that allows you to track your speaker (full or half body) or pre-set shoot zones so you're free to present and let the camera do the rest.
The included firmware supports three specific tracking modes, Presenter Tracking (full or half body), Zone Tracking (for content) and Hybrid which combines the best features of Presenter and Zone modes while allowing the flexibility of tracking the presenter freely or fixed content.
When combined with free AVer PTZ Link software and select microphone systems from Shure, Sennheiser or Yamaha, the TR323NV2 provides voice tracking to bring more versatility to meeting rooms and presentation halls.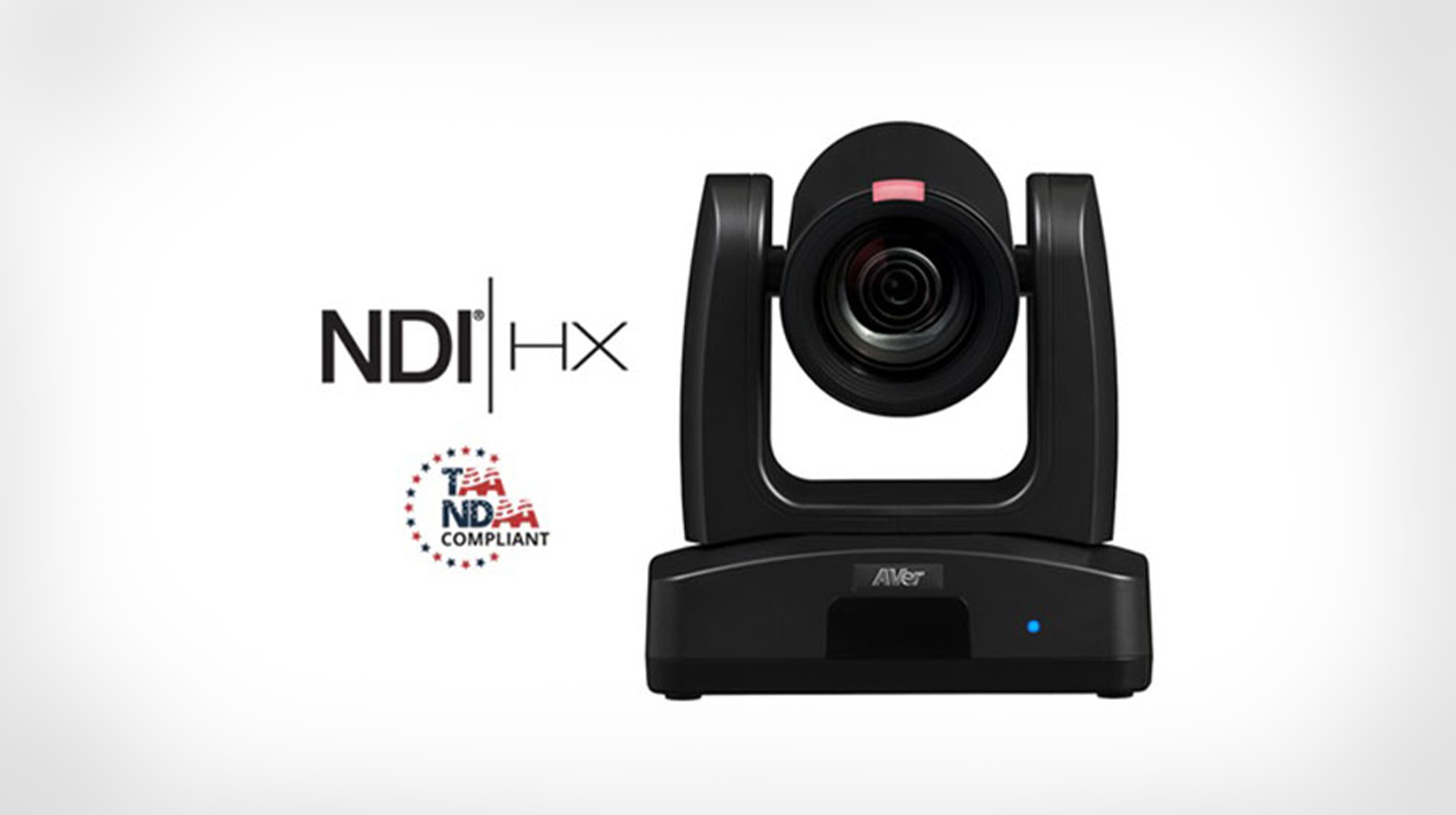 The TR323NV2 supports the NDI|HX2 protocol and includes four outputs with 3G-SDI, HDMI, NDI/IP & USB. The camera offers low-latency NDI video, audio line-in for HDMI and NDI/IP streams, Visca control and Power over Ethernet (PoE+) support.
NDI provides the flexibility to choose from a wider variety of video input sources, providing access to multiple cameras, software on computers, mobile devices on the network using a single LAN port.
The TR323NV2 also features Wide Dynamic Range (WDR) which uses special algorithms to balance dark or bright lighting for one clear image. The tally light simplifies multi-camera live video productions with an illuminated red light on the top of the active camera.
The TR323NV2 works seamlessly with all popular video conferencing platforms such as Microsoft Teams, Zoom and Google Meet.
In addition, the camera is compatible with Barco ClickShare and the Intel Unite platform to provide other strong content sharing and collaboration options. The camera is also TAA and NDAA compliant for government contract bids and applications.
The TR323NV2 can be operated with a number of AVer's free software applications. PTZ Management software controls all AVer Pro AV camera functions from any PC operating Windows 10.
CaptureShare is a powerful application that lets you easily record video, livestream, and capture still images during distance learning and real-time video conferencing. PTZ Control Panel is a mobile application for iPad users to control AVer PTZ cameras through the network.
PTZ Link is a voice tracking application that works with AVer PTZ cameras and select, professional microphone systems to track presenters based on their active voice instead of body movements. The TR323NV2 is protected by the industry-leading AVerCare three-year warranty with 24-hour equipment replacement.
AVer also is announcing NDI upgradeable licenses for a number of its AI Auto Tracking models including the TR311HWV2, TR313V2, and TR333V2. The upgrade licenses can be purchased directly from the NDI Central Store.
"The addition of AVer's new PTZ NDI Camera into the ecosystem of NDI-enabled products and solutions furthers our goal of pioneering a new era of audio/video-over-IP. We are excited that AVer joins us on this journey and continues to embrace the power of NDI to support our joint customers, partners, and the wider market."



"We are thrilled to add a powerful new AI Auto Tracking camera with NDI support included,"




"The TR323NV2 opens the possibilities for many different video collaboration, streaming and broadcasting scenarios."
To learn more about AVer's lineup of auto tracking and PTZ cameras, visit pro.averusa.com.
NDI press contacts: Amisa Saari-Stout asaari-stout@vizrt.com / Isabella Bertazi ibertazi@vizrt.com
About NDI®
NDI® (Network Device Interface technology), is a royalty-free standard enabling IP video workflows across standard Ethernet networks, which advances our customer's software-drive IP workflows. It allows video and audio sources to be shared bi-directionally across a network, eliminating the need for costly direct connections, expensive cable runs, and infrastructure upgrades while turning every source into a destination instantly available anywhere on the network - enabling our mission of "moving video, moving the world".
NDI® is in the hands of millions of customers using applications and devices that are NDI®-enabled and has been adopted by more media organizations than any other IP standard, therefore creating the industry's largest IP ecosystem of products and the rapidly expanding number of companies enabling IP-based customer workflows. www.ndi.tv
About AVer Information Inc.
Founded in 2008, AVer is an award-winning provider of education technology and video collaboration camera solutions that improve productivity and enrich learning. From accelerating learning in the classroom to increasing competitive advantage for businesses, AVer solutions leverage the power of technology to help people connect with one another to achieve great things. Our product portfolio includes Professional Grade Artificial Intelligence Enabled Auto Tracking Cameras, Zoom and Microsoft Teams Certified Enterprise Grade USB Cameras, Document Cameras and Mobile Device Charging Solutions. We strive to provide industry leading service and support that exceeds our customer's expectations. We are also deeply committed to our community, the environment and employ stringent green processes in all we do. Learn more at
averusa.com
and follow us
@AVerInformation
.
Press and Media Inquiries
James Salter
Senior Vice President of Marketing
AVer Information Inc. Americas
P: +1-408-687-5781
E:
james.salter@aver.com
Go Back