AVer Pro AV Camera Wins Excellence in Product Innovation Award from NSCA
TR313V2 Named Trail-Blazing Innovation Winner
Fremont, CA - March 3, 2022
AVer Information Inc. USA, the award-winning provider of video collaboration and education technology solutions announced the company has received a prestigious Excellence in Product Innovation Award from NSCA in the category of Trail-Blazing Innovation for the AVer TR313V2 4K AI Auto Tracking Camera.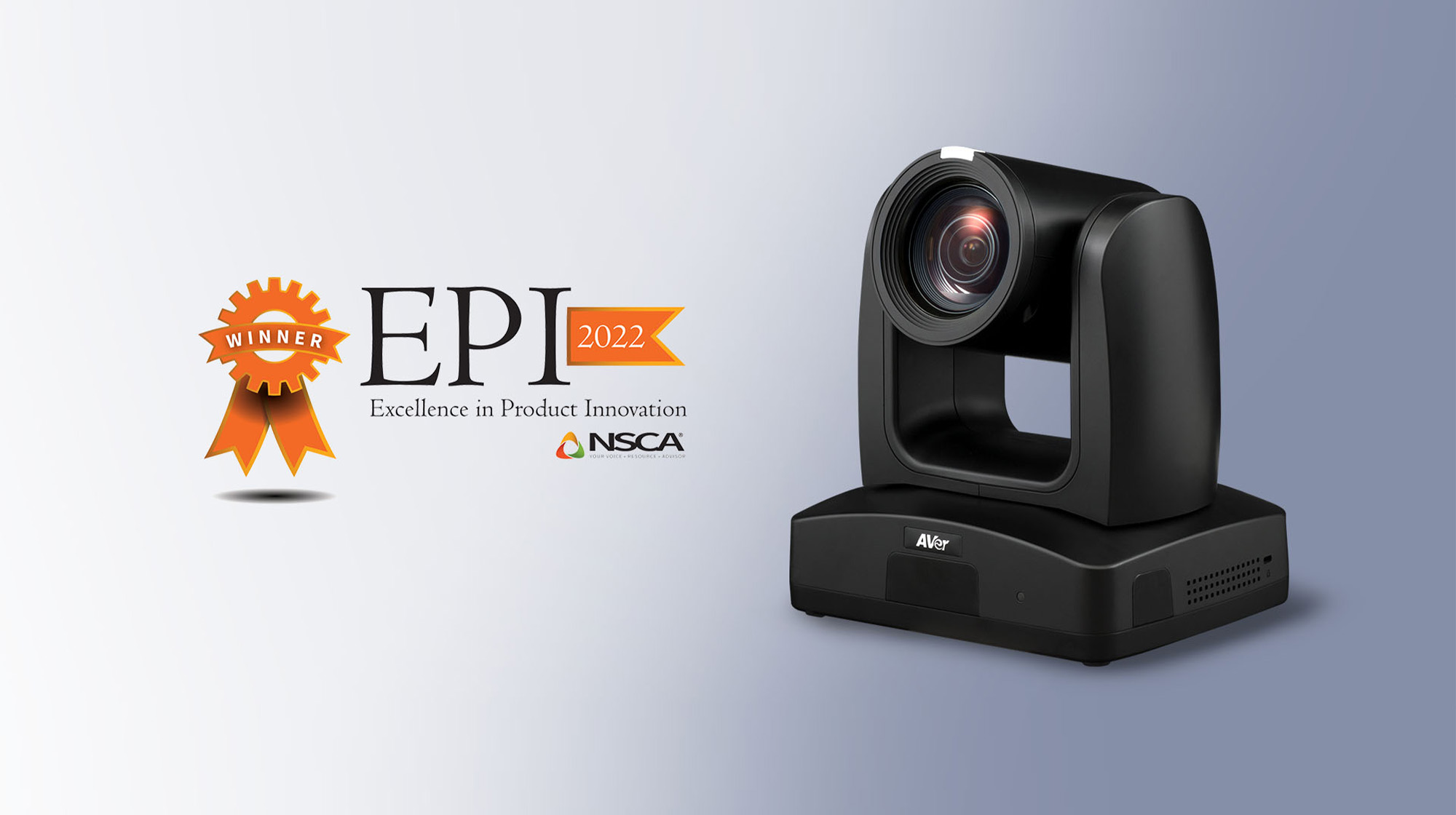 NSCA, the leading not-for-profit association representing the commercial integration industry, announced the winners of its eighth annual Excellence in Product Innovation awards, a recognition program for manufacturers and products that have a profound impact on systems integrators on February 23. The judging panel included NSCA's director of business resources, the editor of Commercial Integrator, and a panel of integrators from across North America.
The TR313V2 AI Auto Tracking Camera delivers professional-grade streamed lectures, sermons, and trainings with 12X optical zoom, a powerful 8MP camera and 4K resolution. The advanced artificial intelligence (AI) technology allows you to track your speaker (full or half body) or pre-set shoot zone without a dedicated camera operator. The technology will track the presenter even if he or she is wearing a PPE mask with no lanyard required. The free available control software from AVer and ease of integration with common AV control systems make the camera popular with commercial integrators.
"The entries we received as part of the Excellence in Product Innovation awards this year were truly impressive,"




"The manufacturers in this industry aren't backing away from innovation—that was clear in every product we pored over. It's incredibly exciting to see where technology is headed."
"AVer is thrilled to win this top industry award from the NSCA,"




"We are committed to delivering innovative Pro AV cameras like the TR313V2 that make collaboration experiences memorable and setup simple for integrators, partners and customers."
To learn more about AVer awards visit https://averusa.com/company/awards
About AVer Information Inc.
Founded in 2008, AVer is an award-winning provider of education technology and video collaboration camera solutions that improve productivity and enrich learning. From accelerating learning in the classroom to increasing competitive advantage for businesses, AVer solutions leverage the power of technology to help people connect with one another to achieve great things. Our product portfolio includes Professional Grade Artificial Intelligence Enabled Auto Tracking Cameras, Zoom and Microsoft Teams Certified Enterprise Grade USB Cameras, Document Cameras and Mobile Device Charging Solutions. We strive to provide industry leading service and support that exceeds our customer's expectations. We are also deeply committed to our community, the environment and employ stringent green processes in all we do. Learn more at
averusa.com
and follow us
@AVerInformation
.
Press and Media Inquiries
James Salter
Senior Vice President of Marketing
AVer Information Inc. Americas
P: +1-408-687-5781
E:
james.salter@aver.com
Go Back