AVer Information Inc. USA Releases Free PTZ Management Software
Solution Provides Complete Control of AVer Pro AV Cameras From Your PC
Fremont, CA - September 25, 2020
AVer Information Inc. USA, the award-winning provider of video collaboration solutions and education technology solutions, today announced the company has released PTZ Management Software that allows users total control of AVer Pro AV camera functions from any PC operating Windows 10.
PTZ Management allows simultaneous control of up to 128 cameras, providing a simple but scalable system versus more expensive control systems. Operators can fully control AVer PTZ cameras with a user-friendly interface that allows one to toggle between cameras, adjust positions, speed, zoom, activate presets and auto tracking modes.
The remote management of the PTZ cameras is also a timesaver as it extends to editing settings and upgrading firmware across 128 cameras at once which makes things easy for AV managers. The software provides complete visibility of PTZ cameras and IP addresses on the network with a quick search feature. The PTZ Management Software is compatible with all current AVer PTZ and Auto Tracking models. Users can download the free Windows software on AVer's website in the support section.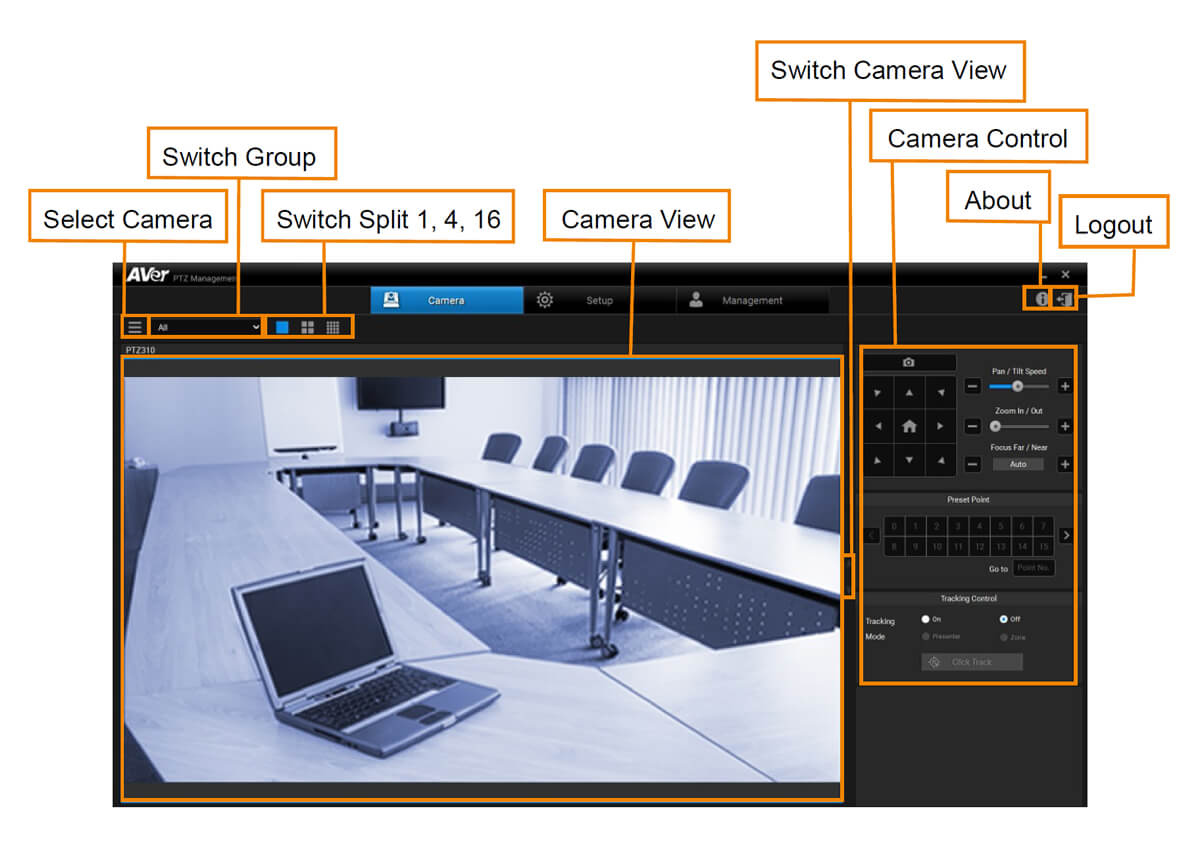 "We are excited to offer yet another valuable tool in AVer's Pro AV product lineup to produce professional live streaming events,"




"Our PTZ Management Software simplifies the process of controlling and maintaining AVer Pro AV cameras from the power of a single computer."
To learn more about AVer's lineup of auto tracking and PTZ cameras, visit pro.averusa.com.
About AVer Information Inc.
Founded in 2008, AVer is an award-winning provider of education technology and video collaboration camera solutions that improve productivity and enrich learning. From accelerating learning in the classroom to increasing competitive advantage for businesses, AVer solutions leverage the power of technology to help people connect with one another to achieve great things. Our product portfolio includes Professional Grade Artificial Intelligence Enabled Auto Tracking Cameras, Zoom and Microsoft Teams Certified Enterprise Grade USB Cameras, Document Cameras and Mobile Device Charging Solutions. We strive to provide industry leading service and support that exceeds our customer's expectations. We are also deeply committed to our community, the environment and employ stringent green processes in all we do. Learn more at
averusa.com
and follow us
@AVerInformation
.
Press and Media Inquiries
James Salter
Senior Vice President of Marketing
AVer Information Inc. Americas
P: +1-408-687-5781
E:
james.salter@aver.com
Go Back