AVer Wins Commercial Integrator 2020 BEST Award
TR530 Named Best Pan/Tilt/Zoom Camera
Fremont, CA - June 17, 2020
AVer Information Inc. USA, the award-winning provider of video collaboration and education technology solutions announced the AVer TR530 Professional Auto Tracking and Live Streaming camera has been selected as a winner of Commercial Integrator's 2020 BEST Award. The selections were judged by an unbiased panel of industry editorial leaders. Judging is done individually, with each judge giving a score for three separate categories for each audio video product.
The 2020 BEST Awards (Best Electronics Systems Technologies) from Commercial Integrator focuses on letting the integrator audience know which AV products have stood out among the rest this year. Scoring categories included product design and technological innovation, functional features of the product, and the benefit that each product provides to commercial integrators. Scores were tallied in order to determine the winners in each product category.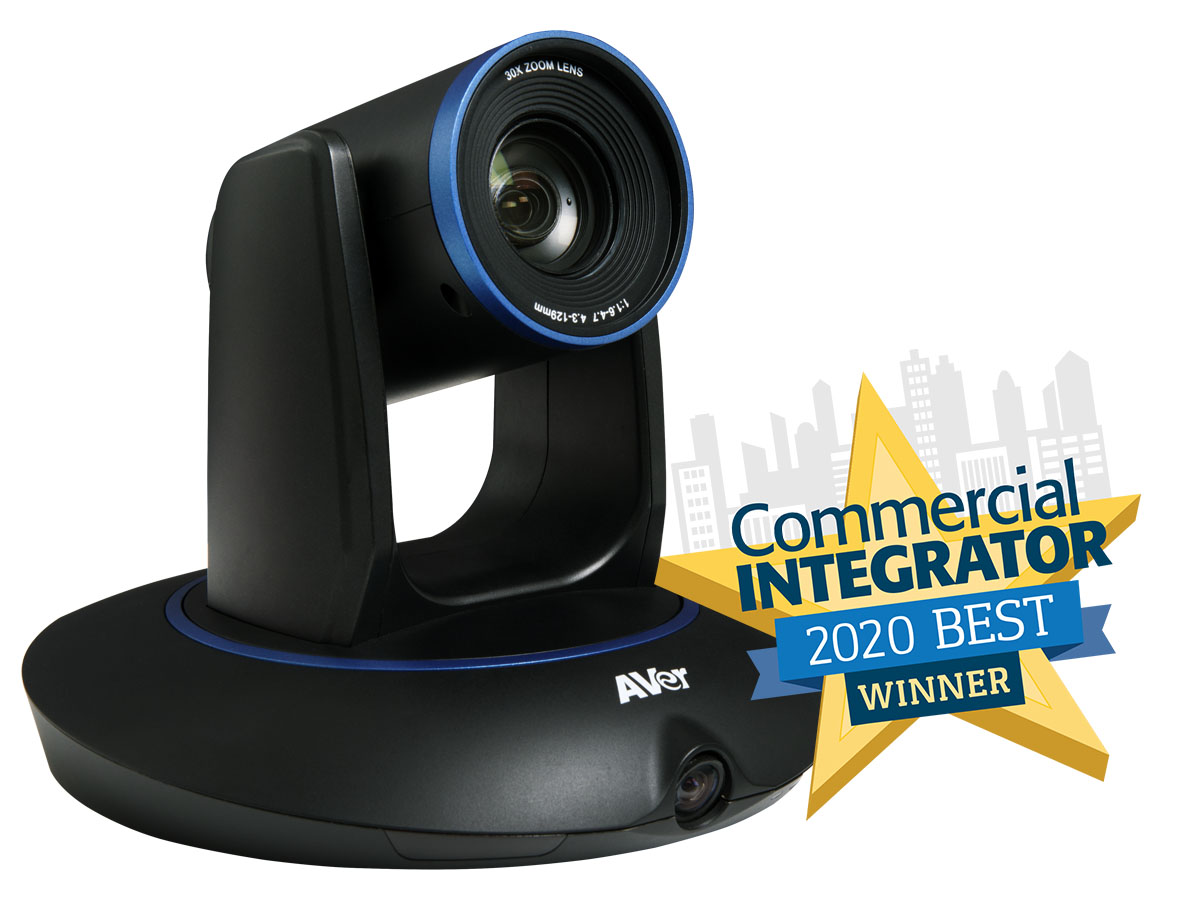 AVer TR530 Auto Tracking PTZ and Live Streaming Camera
The AVer TR530 Professional Auto Tracking and Live Streaming Camera delivers professional video broadcasts without the need for a camera operator to track your target. The camera uses algorithms that track facial features without having to carry a physical lanyard. The camera has three unique tracking modes including Wide Area Tracking, Stage Tracking, and Segment Tracking. The TR530 boasts a powerful PTZ camera with 30X optical zoom and a secondary 120° FOV panoramic camera that provides users with crystal-clear full HD 1080p video resolution.
"There are a number of submissions to look through, each one of them certainly deserving of praise. Only one can be chosen in each product category,"




"Our judges make sure to consider the benefits each product provides to integrators and their businesses. Further, we try to consider how these products improve the workflow of end users once the integrator is finished with the project and off the site. When it comes down to it, the products selected this year provide serious benefits to integrators and their customers."
"AVer is thrilled to receive this prestigious award from Commercial Integrator for the TR530,"




"The industry is embracing our unique auto-tracking features as the world needs more cameras than can be possibly managed by individual operators."
About AVer Information Inc.
Founded in 2008, AVer is an award-winning provider of education technology and video collaboration camera solutions that improve productivity and enrich learning. From accelerating learning in the classroom to increasing competitive advantage for businesses, AVer solutions leverage the power of technology to help people connect with one another to achieve great things. Our product portfolio includes Professional Grade Artificial Intelligence Enabled Auto Tracking Cameras, Zoom and Microsoft Teams Certified Enterprise Grade USB Cameras, Document Cameras and Mobile Device Charging Solutions. We strive to provide industry leading service and support that exceeds our customer's expectations. We are also deeply committed to our community, the environment and employ stringent green processes in all we do. Learn more at
averusa.com
and follow us
@AVerInformation
.
Press and Media Inquiries
James Salter
Senior Vice President of Marketing
AVer Information Inc. Americas
P: +1-408-687-5781
E:
james.salter@aver.com
Go Back