AVer Information Inc. USA Introduces Professional PTZ Cameras With NDI®
AVer PTZ310N and PTZ330N offer NDI®|HX Connectivity
Fremont, CA - February 26, 2020
AVer Information Inc. USA, the award-winning provider of video collaboration solutions and education technology solutions, today announced the company has released the PTZ310N and PTZ330N AVer Professional PTZ Live Streaming PTZ cameras with NDI® (Network Device Interface) support.
NDI, a technology originally developed by NewTek and a Vizrt Group brand, is the industry's foremost royalty-free IP video standard that allows users to access audio, video, and metadata between NDI-enabled devices anywhere on your network. NDI provides the freedom and flexibility to choose from a tremendous variety of video input sources, providing access to multiple cameras, software applications, mobile devices on the network using a single standard LAN port. The AVer PTZ cameras combine both standard SDI and HDMI connections as well as Ethernet/NDI network connectivity for HD video streaming, recording, and broadcasting. The PTZ310N and the PTZ330N can output HD video and audio while receiving control signal and power over a single connection. Pan, tilt, zoom, recording settings, and more can also be adjusted remotely over Ethernet.
AVer PTZ310N and PTZ330N NDI Professional PTZ Live Streaming Cameras:
Based on the AVer PTZ310 and PTZ330 models, the NDI cameras feature 12x or 30x optical zoom and 12x digital zoom, full HD 1080p60 and a number of options to ensure precise automatic content capture and targeting. Both cameras support the latest NDI|HX protocol and feature four outputs with HDMI, SDI, NDI/IP & USB. The cameras offer low-latency NDI video, audio line-in for HDMI and NDI/IP streams and Power over Ethernet (PoE) support. All cameras are protected by the industry-leading AVerCare three-year warranty with 24-hour equipment replacement.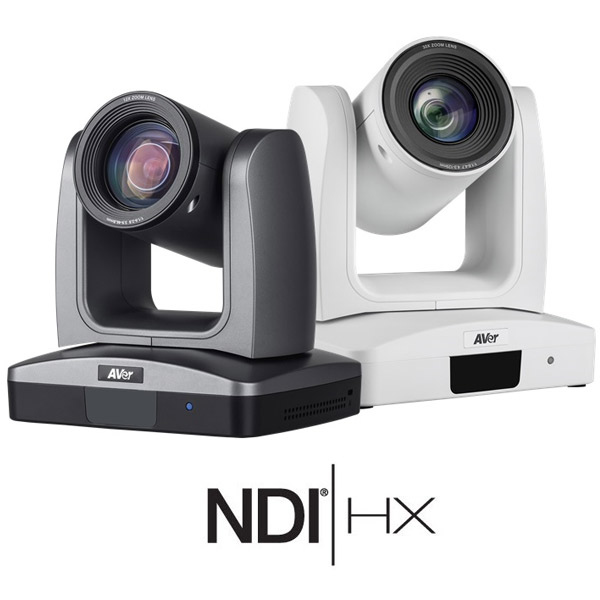 "With these new AVer PTZ310N and PTZ330N cameras with NDI, customers can now connect to any Ethernet outlet in a corporate huddle room, reception area, school room, house of worship auditorium, or hotel ballroom, as an immediate source on the network,"




"NDI cameras change the world of video because they do not have to be tethered to a system with proprietary SDI or HDMI cables, one Ethernet cable does it all. NDI is the dominant IP technology on the market, as shown by the millions of customers with access to it today."
"AVer strives to deliver innovative video solutions for the Pro AV market with our PTZ cameras and now based on NDI,"




"The built-in NewTek NDI|HX support for our new PTZ cameras opens up a world of possibilities for AVer customers as the low-latency applications across live productions are practically limitless."
To learn more about AVer's partnerships, including NewTek, visit pro.averusa.com.
About AVer Information Inc.
Founded in 2008, AVer is an award-winning provider of education technology and video collaboration camera solutions that improve productivity and enrich learning. From accelerating learning in the classroom to increasing competitive advantage for businesses, AVer solutions leverage the power of technology to help people connect with one another to achieve great things. Our product portfolio includes Professional Grade Artificial Intelligence Enabled Auto Tracking Cameras, Zoom and Microsoft Teams Certified Enterprise Grade USB Cameras, Document Cameras and Mobile Device Charging Solutions. We strive to provide industry leading service and support that exceeds our customer's expectations. We are also deeply committed to our community, the environment and employ stringent green processes in all we do. Learn more at
averusa.com
and follow us
@AVerInformation
.
About NDI
NDI is in the hands of millions of users allowing multiple video systems to identify and communicate with one another over IP. NDI can encode, transmit and receive many streams of high quality, low latency, frame-accurate video and audio in real time. This benefits any network-connected video device, including video mixers, graphics systems, capture cards, and many other production devices. This makes it possible to exponentially increase the number of sources available for live production switching, without directly attaching to devices, changing locations, or investing in expensive, high-bandwidth networks that simply replace SDI-based workflows.
Press and Media Inquiries
James Salter
Senior Vice President of Marketing
AVer Information Inc. Americas
P: +1-408-687-5781
E:
james.salter@aver.com
Go Back