AVer Information Inc. USA to Demonstrate Professional Auto Tracking and Live Streaming PTZ Cameras at Kaltura Connect
Kaltura customers will see the integration of AVer Pro AV cameras with their automated video content capture platform
Fremont, CA - January 21, 2020
AVer Information Inc. USA, the award-winning provider of video collaboration solutions and education technology solutions, today announced the company will demonstrate its lineup of professional auto tracking and live streaming PTZ cameras and multi-camera controller at Kaltura Connect. The Kaltura user conference takes place January 21-23 at the Hilton Riverside Hotel, New Orleans, LA.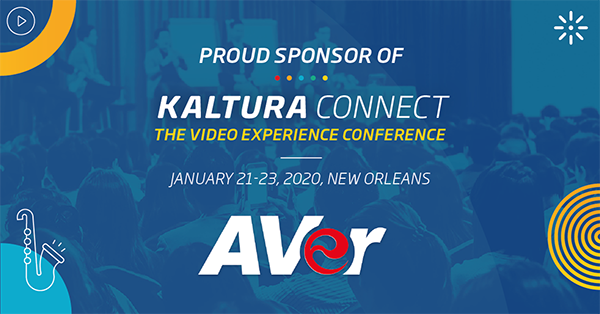 AVer professional auto tracking and live streaming PTZ cameras have been tested with the Kaltura video platform and comply with standards for hardware integration and quality. Customers can use both the video platform and the PTZ cameras in a number of use cases including broadcasting, streaming and recording rich video content.
"We are excited to participate at Kaltura Connect to showcase our Pro AV lineup that works with the Kaltura platform and provides the best value and best service to Kaltura customers,"




"Our technology partnership with Kaltura provides both AVer customers and Kaltura customers with our exceptional video camera functionality and their on-demand video SaaS solutions."
AVer will be demonstrating their auto tracking and live streaming PTZ cameras along with their multi-camera controller at the Kaltura Connect 2020 conference at the Hilton Riverside Hotel in booth #14.
To learn more about AVer's partnerships, including Kingdom, visit pro.averusa.com.
About AVer Information Inc.
Founded in 2008, AVer is an award-winning provider of education technology and video collaboration camera solutions that improve productivity and enrich learning. From accelerating learning in the classroom to increasing competitive advantage for businesses, AVer solutions leverage the power of technology to help people connect with one another to achieve great things. Our product portfolio includes Professional Grade Artificial Intelligence Enabled Auto Tracking Cameras, Zoom and Microsoft Teams Certified Enterprise Grade USB Cameras, Document Cameras and Mobile Device Charging Solutions. We strive to provide industry leading service and support that exceeds our customer's expectations. We are also deeply committed to our community, the environment and employ stringent green processes in all we do. Learn more at
averusa.com
and follow us
@AVerInformation
.
Press and Media Inquiries
James Salter
Senior Vice President of Marketing
AVer Information Inc. Americas
P: +1-408-687-5781
E:
james.salter@aver.com
Go Back