AVer Receives Four Tech & Learning Awards of Excellence: Best of 2022
Winning Cameras in Primary and Higher Education Categories
Fremont, CA - February 14, 2023
AVer Information Inc. USA, the award-winning provider of video collaboration and education technology solutions, today announced that it has received four Tech & Learning Awards of Excellence: Best of 2022 for the VB130 All-in-One Classroom Collaboration Camera, the DL30 AI Auto Tracking Classroom Camera, and the M5 Document Camera, all in the Primary Education category and the TR333V2 AI Auto Tracking Camera in the Higher Education category.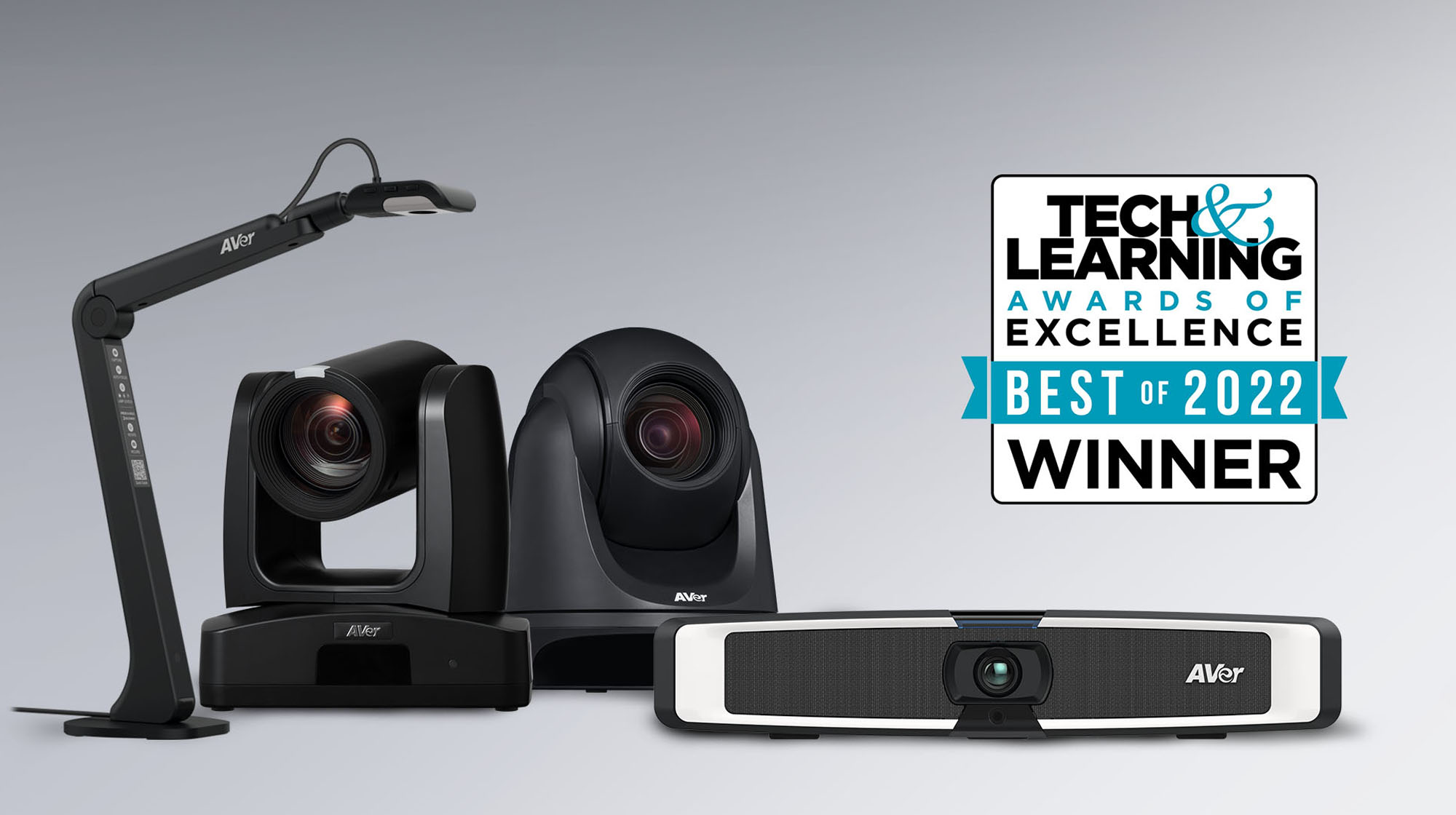 The awards reward the very best products in the education technology industry from the last 12 months, selecting those that really help to aid education professionals, students and/or teachers. Each product was judged based on its feature set, innovation, perceived value and ease of use, following which it was deemed to be a standout within the sector and selected as a winner.
The awards' editorial team have said that each year the Awards of Excellence grow to include a more diverse range of products and companies. With this being the case, judging and finding the winners becomes a tougher decision with each award. All of the judging is performed by industry experts, meaning those who have impressed and won the award should be truly proud of their achievement.
"This year's nominated products reflect some of the trends we're seeing in education: a greater focus on wellness, new features added to products to create flexibility for a variety of learning environments, new ways to assess student mastery and personalize learning, and a focus on providing equitable access to technology for all students,"




"Our judges were impressed with the breadth of these new products and the industry's willingness to embrace innovation to support all students. Congratulations to the winners!"
"We are honored to have received these awards from Tech & Learning in both primary and higher education categories,"




"AVer has a camera for every room from the classroom to the largest lecture halls, and we strive to deliver innovative products to make positive and productive experiences for educators and students."
About AVer Information Inc.
Founded in 2008, AVer is an award-winning provider of education technology and video collaboration camera solutions that improve productivity and enrich learning. From accelerating learning in the classroom to increasing competitive advantage for businesses, AVer solutions leverage the power of technology to help people connect with one another to achieve great things. Our product portfolio includes Professional Grade Artificial Intelligence Enabled Auto Tracking Cameras, Zoom and Microsoft Teams Certified Enterprise Grade USB Cameras, Document Cameras and Mobile Device Charging Solutions. We strive to provide industry leading service and support that exceeds our customer's expectations. We are also deeply committed to our community, the environment and employ stringent green processes in all we do. Learn more at
averusa.com
and follow us
@AVerInformation
.
Press and Media Inquiries
James Salter
Senior Vice President of Marketing
AVer Information Inc. Americas
P: +1-408-687-5781
E:
james.salter@aver.com
Go Back