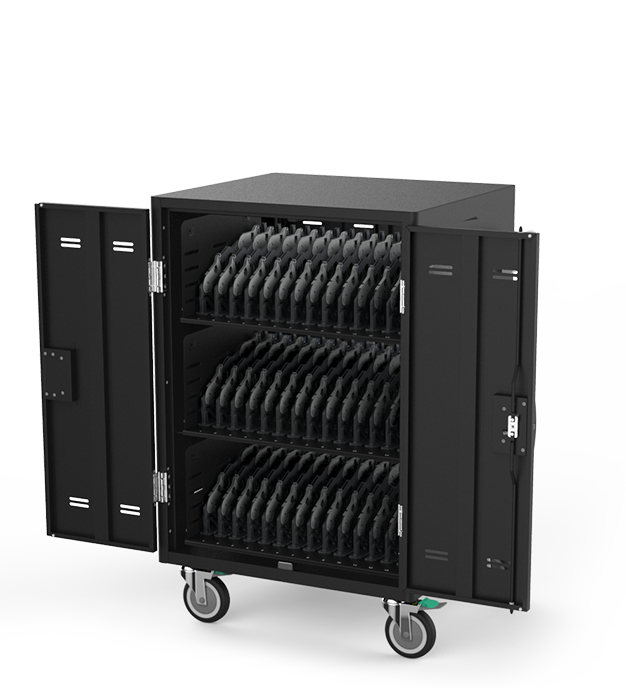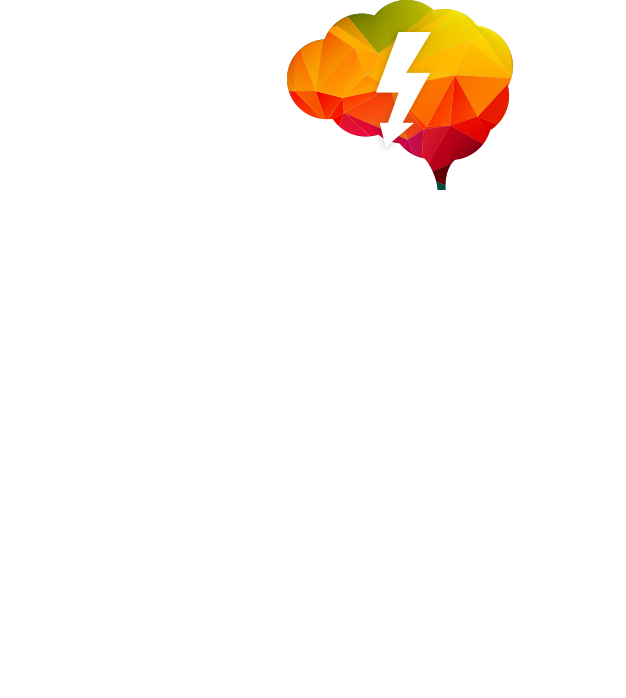 More intuitive charging
Make sure devices are charged and ready for every subject, and support additional classroom technology with our most advanced charging technology. The X42i charging system constantly evaluates which devices need to be charged and reroutes power to concentrate on those device groups.
Advanced cable management
The X42i charging cart comes fully equipped with AVer's patented cable management system. Cable clips help keep power cables in the right slot, and adjustable dividers allow modification of slot size to accommodate larger devices.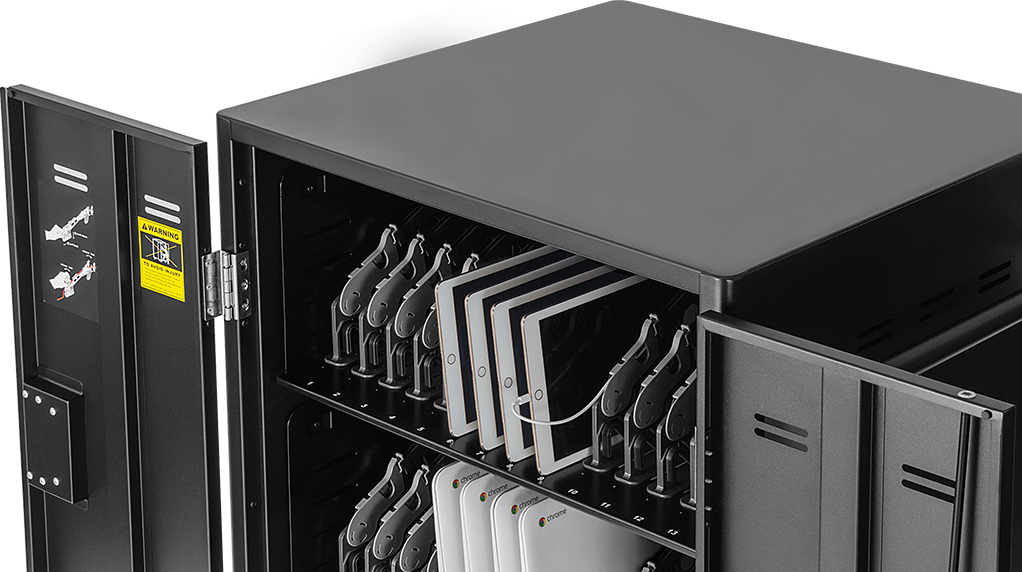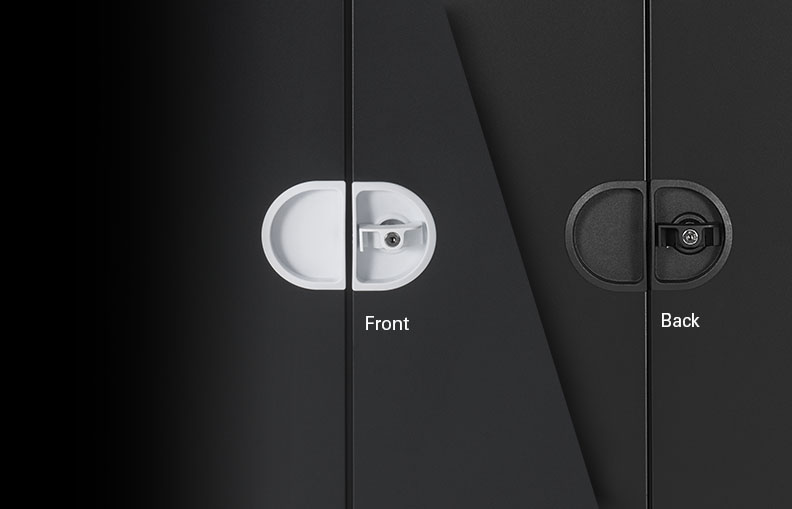 Safety and security
Have peace of mind knowing devices are safe and secure with front and back combo locks. The locking back door can also safeguard against additional hazards to ensure students are protected.
Mobile or stationary
The X42i charging cart comes equipped with directional casters for smooth mobility from classroom to classroom, or lock the wheels of the X42i to keep it secure in place.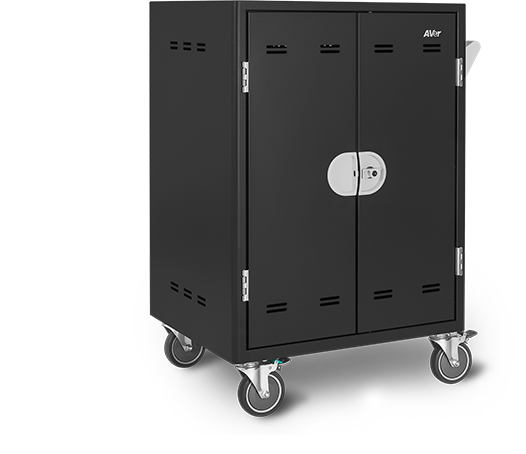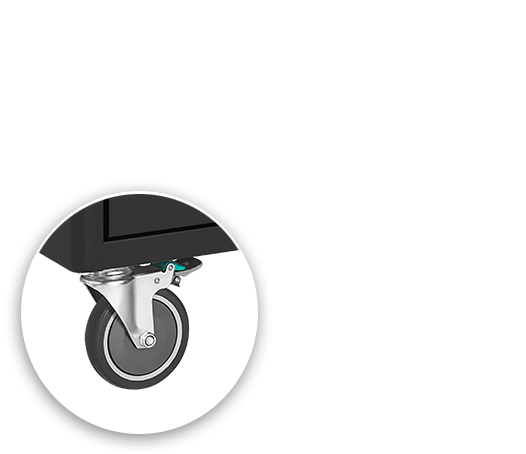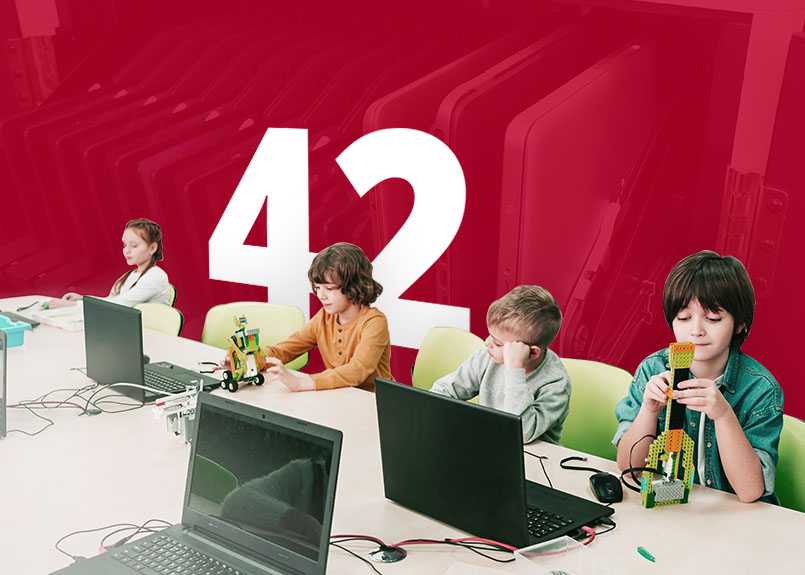 Support any learning environment
Designed to support more devices, the X42i charging cart can manage up to 42 laptops, Chromebooks, or tablets to be shared between multiple classrooms for 1:1 learning or BYOD. Each shelf supports 14 devices with numbered slots to keep devices organized.

AVer has great products for education... the AVer cart features, availability and price-point met our needs... the external frame is well built and great for transporting the carts across campus. Its best features are the ease of storing and removing the devices using the sliding shelves, and the cable management features that prevent a "big spaghetti" mess of wires...

San Marino Unified School District, Carver Elementary School - Jason Powert, Computer Lab Coordinator
Specifications
Device capacity42
Slot sizeH = 27cm (10.63")
W = 3.4cm (1.34")
D = 40cm (15.75")
Support deviceTablet/Chromebook/Laptop up to 15"
Charging typeAdaptive intelligent charging
Device capacity
Slot size
Support device
Charging type
42
H = 27cm (10.63")
W = 3.4cm (1.34")
D = 40cm (15.75")
Tablet/Chromebook/Laptop up to 15"
Adaptive intelligent charging
External power outlets
LED indicator
Sliding shelves
Divider type
2
Power LED: Green/Orange/Red
Status LED (x3): Blue
N/A
Plastic divider with built-in cable channel & dual secure latch
Cart dimension
Package dimension
Net weight
Gross weight
H = 107.0 cm (42.13")
W = 77.65cm (30.57")
D = 63.8cm (25.12")
H=125cm/49.21"
W=87.5cm/34.45"
D=75cm/29.53"
70 Kg (154 lbs)
82 Kg (180.78 lbs)
92 Kg (202.83 lbs) w/ pallet
Power specification
Cable management
Security
Casters
AC IN:
100-120V ~ 50/60Hz, 12A
PWR Strip 42-Port Total
100-120V ~ 50/60Hz, 12A
Outlet 2-Port Total
100-120V ~ 50/60Hz, 12A
Individual AC adapter compartments
Front and rear door: 3-point lock mechanism with key & padlock hole (Note: Padlocks not included in the package)
5" casters x 4
2 locking
2 directional locking
Security hook
Warranty
Adaptor holder inner dimension
Ordering info
Yes
10 years mechanical components
5 years electrical components
H = 100mm (3.94")
W = 32.5mm (1.28")
D = 75mm (2.95")
SKU: CHRGEX42i