Harness the Power of NDI Video Platform for Low Bandwidth Broadcasting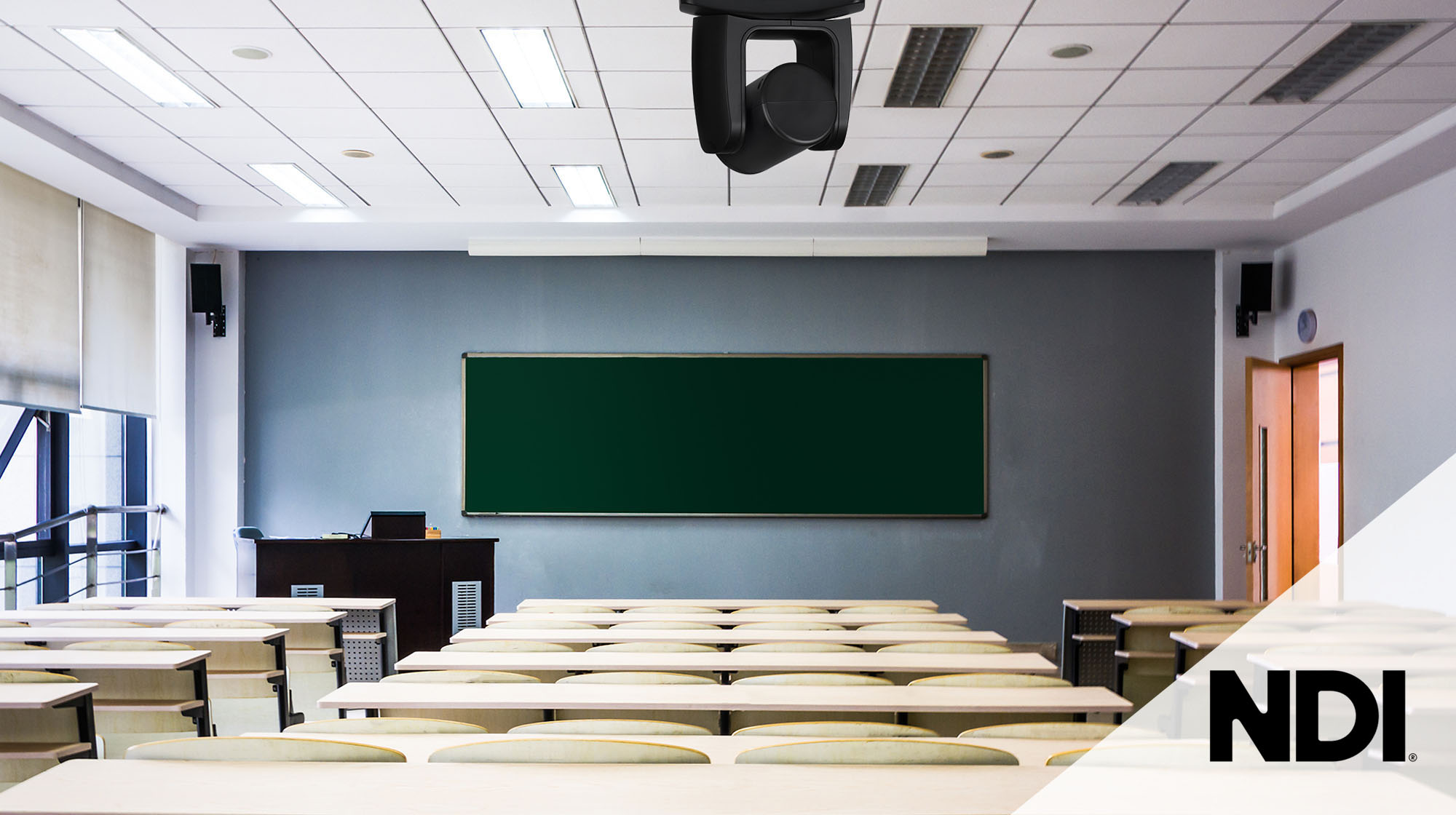 May 26, 2023
Broadcasters and streamers have been facing an increasing demand for high-quality, real-time video content that is easily accessible from anywhere. However, with limited network bandwidth, the challenge of delivering such content is significant. Fortunately, the NDI (Network Device Interface) video platform provides an excellent solution for low bandwidth broadcasting or streaming with low latency. In this article, we'll take a closer look at how the NDI platform can help your organization harness the power of the right Pro AV camera.
What is NDI?
NDI is a protocol developed by NewTek that enables audio and video to be transmitted over a local network. It aims to simplify live production by eliminating the need for complex SDI or HDMI connections. Instead, NDI uses Ethernet connections, which are ubiquitous and relatively inexpensive. With NDI, you can connect your cameras, switchers, and other production devices to your network, and you won't need as many cables to connect them.
Benefits of NDI for Low Bandwidth Broadcasting
NDI offers several benefits for low bandwidth broadcasting or streaming. First, it uses compression techniques that make it possible to transmit high-quality, low-latency video at bandwidths as low as 5Mbps. This makes NDI an ideal solution for organizations that don't have access to high-speed networks or need to reduce bandwidth costs.
Moreover, NDI also supports a variety of resolutions and frame rates, including 4K at 60fps. This means that organizations can enjoy the full benefits of high-quality video without having to worry about network constraints. Additionally, NDI's low latency (less than 16 milliseconds) ensures that audiences can enjoy a seamless viewing experience without noticeable delays.
The Role of Pro AV Cameras
To get the most out of NDI, it's important to use the right Pro AV camera. Pro AV cameras are designed to deliver the highest possible video quality in a variety of lighting conditions and environments. Additionally, they come equipped with features like high zoom ratios, image stabilization, and low-light sensitivity, which are essential for producing professional-grade video content. Some of the best also feature AI technology to enable auto tracking, voice tracking, audio fencing and more.
The right Pro AV camera can also facilitate the use of NDI in low bandwidth broadcasting or streaming. For example, cameras with NDI output capability enable easy integration with other NDI-enabled devices. This eliminates the need for additional encoder hardware, making it easier for production teams to set up remote production workflows.
Check out the new AVer Pro AV Selection Tool here to see what NDI cameras are available to suit your needs.
NDI-Enabled Cameras and Compatibility
Several professional camera manufacturers, including AVer, have introduced NDI-enabled cameras. These cameras provide a wide range of functions like remote control, tally signals, power over Ethernet (PoE) and audio return channel. A compatible camera can integrate effortlessly with a network where they function as a source for producing high quality content for an organization's audience consumption, whether it is a simple web streaming, or the broader scale productions.
Furthermore, compatibility is key, which is why the NDI platform has been embraced by some of the leading production software and hardware manufacturers, as they have a wide range of products including camera PTZ controllers, vision mixers, player software and effects software that work with NDI.
Conclusion
Low bandwidth broadcasting or streaming with low latency can be a major challenge for organizations that require high-quality, real-time video content. However, the NDI video platform provides an excellent solution that can help your organization to harness the power with the right Pro AV camera. By using NDI-enabled cameras and software within your facility, you can easily and affordably produce broadcast-quality video content that your audiences will appreciate. Check out the latest format of the platform with NDI|HX3 here. We hope this article has been helpful in exploring the various applications and benefits of NDI technology. Have you ever tried the NDI video platform? If you haven't, it's time to give it a try – it's a game-changer in the live production industry.
About AVer Information Inc.
Founded in 2008, AVer is an award-winning provider of education technology and video collaboration camera solutions that improve productivity and enrich learning. From accelerating learning in the classroom to increasing competitive advantage for businesses, AVer solutions leverage the power of technology to help people connect with one another to achieve great things. Our product portfolio includes Professional Grade Artificial Intelligence Enabled Auto Tracking Cameras, Zoom and Microsoft Teams Certified Enterprise Grade USB Cameras, Document Cameras and Mobile Device Charging Solutions. We strive to provide industry leading service and support that exceeds our customer's expectations. We are also deeply committed to our community, the environment and employ stringent green processes in all we do. Learn more at
averusa.com
and follow us
@AVerInformation
.
Go Back