Alameda County Community Food Bank Presents AVer with 'The Red Plate Award'
Fremont, CA - March 24, 2016
AVer Information Inc., a leading provider of innovative educational and business technology solutions received 'The Red Plate Award' from the Alameda County Community Food Bank for donating 2,822 pounds of food during the 2015 Early Holiday Food Drive. AVer has committed to teaming up with the nonprofit organization to help end hunger in the Bay Area community since 2013.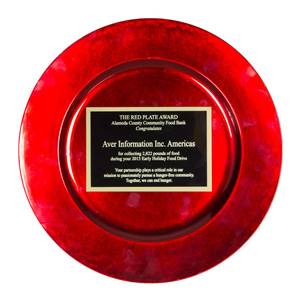 "I want to thank Aver Information Inc. Americas for their generous and enthusiastic food drive in support of our work. Its good people like you who make a positive difference for the community, and we deeply appreciate your involvement."
Alameda County Community Food Banks serve 49,000 Alameda County residents every week with almost half the residents being children and teens. Resources such as these food drives are vital for neighbors in the community facing hunger.
"We are honored to partner with the Alameda County Community Food Banks to serve the community," stated Arthur Pait, President of AVer Information Inc. Americas. "Corporate Social Responsibility is something we strongly believe in and practice at AVer. We will continue to do whatever we can to help our community as an organization."
This year, AVer plans to partner with ACCFB for the 2016 Early Holiday Food Drive and continue efforts to end local hunger in the community.
About AVer Information Inc.
Founded in 2008, AVer is an award-winning provider of education technology and video collaboration camera solutions that improve productivity and enrich learning. From accelerating learning in the classroom to increasing competitive advantage for businesses, AVer solutions leverage the power of technology to help people connect with one another to achieve great things. Our product portfolio includes Professional Grade Artificial Intelligence Enabled Auto Tracking Cameras, Zoom and Microsoft Teams Certified Enterprise Grade USB Cameras, Document Cameras and Mobile Device Charging Solutions. We strive to provide industry leading service and support that exceeds our customer's expectations. We are also deeply committed to our community, the environment and employ stringent green processes in all we do. Learn more at
averusa.com
and follow us
@AVerInformation
.
Go Back