AVer Recognized as a "Market Disruptor" in Frost & Sullivan's Global Video Conferencing Market Analysis
Fremont, CA – February 28, 2019
AVer Information Inc., award-winning innovator of video conferencing solutions, has been named a "market disruptor" by Frost & Sullivan in their 2019 Analysis of the Global Video Conferencing market. The report looked at numerous video conference providers and measured their performance through in-depth interviews, analysis, and third party validation.
Frost & Sullivan sees the advent of a new breed of video conference providers that is disrupting the status quo to create astounding products for the world of video conferencing. The firm defines "market disruptors" as companies that deliver products that are easy to use and provide instant value to customers at an affordable price.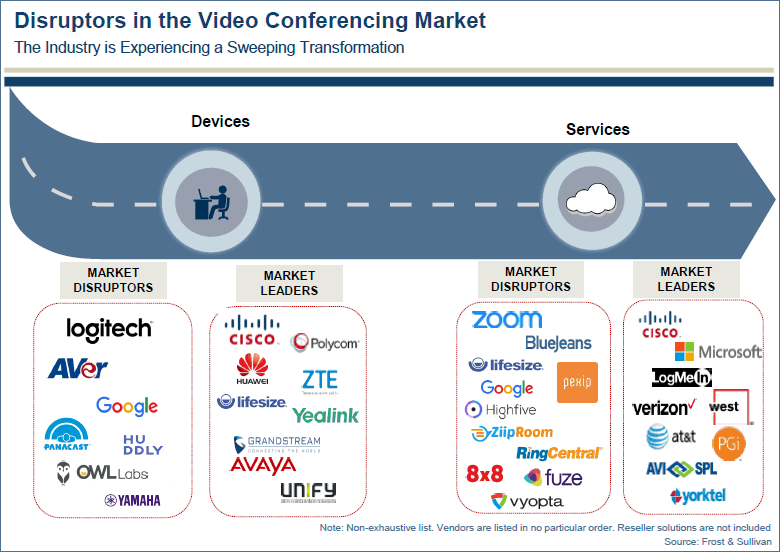 Some major findings from Frost & Sullivan's market analysis are:
The $7.8 billion global video conferencing industry represents a robust market and a secular growth opportunity as more and more businesses see benefits from the tectonic shift towards software-enabled meeting rooms and integrated cloud solutions.
USB Conference Room Cams: These video conferencing devices are peripherals that are typically offered as an audio and video pair and require a separate PC software client(s) or a cloud service (e.g., Blue Jeans, Zoom). Typically available at a price point of <&dollar;1k, they are the fastest growing category for video conferencing room deployments.
The global workforce is changing from large teams in one location to small teams and huddle-room meetings will surge from 12 percent to 69.8 percent of all video conferencing room meetings by 2023.
"We are honored and excited to be recognized as a 'Market Disruptor' by Frost & Sullivan. We look forward to introducing even more innovation this year to drive greater collaboration, productivity and performance among businesses."
About AVer Information Inc.
Founded in 2008, AVer is an award-winning provider of education technology and video collaboration camera solutions that improve productivity and enrich learning. From accelerating learning in the classroom to increasing competitive advantage for businesses, AVer solutions leverage the power of technology to help people connect with one another to achieve great things. Our product portfolio includes Professional Grade Artificial Intelligence Enabled Auto Tracking Cameras, Zoom and Microsoft Teams Certified Enterprise Grade USB Cameras, Document Cameras and Mobile Device Charging Solutions. We strive to provide industry leading service and support that exceeds our customer's expectations. We are also deeply committed to our community, the environment and employ stringent green processes in all we do. Learn more at
averusa.com
and follow us
@AVerInformation
.
Go Back