AVer Receives Tech & Learning's Stellar Service Award for 'Best Tech Support'
Fremont, CA - February 4, 2016
AVer Information Inc., leading provider of business and educational technology solutions is the number you want to have on speed dial. Emerged as Tech & Learning Magazine's Stellar Service winner for Best Tech support, AVer is recognized for its quick, friendly, and knowledgeable IT support.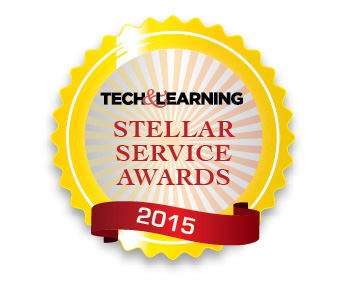 "Our relationship and dedication to our customers is what it's all about. Part of providing a quality product is the service that comes with it,"
AVer's Technical Support Team are well-trained experts providing customers the support they need through extensive web support with US based live chat, e-mail, and phone services. AVer is committed to delivering exceptional customer service and ensuring the highest standard of technical support. Every interaction is treated with impeccable quality and professionalism resulting in effective solutions for customers.
Learn more about AVer products at averusa.com
About AVer Information Inc.
AVer is an award-winning provider of video collaboration solutions and education technology solutions that improve productivity and enrich lives. From accelerating learning in the classroom to increasing competitive advantage for businesses, AVer solutions leverage the power of technology to help people connect with one another to achieve great things. Our product portfolio includes Enterprise Grade USB Cameras for Cloud Based Video Conferencing, Enterprise Grade All-in-One Touch Panel for Zoom Rooms, Professional Grade PTZ Tracking Cameras, Wireless Document Cameras for Education, Mobile Device Charging Solutions for Education, and Interactive Flat Panels for Education. We strive to provide industry leading service and support that exceeds our customer's expectations. We are also deeply committed to our community, the environment and employ stringent green processes in all we do. Learn more at averusa.com and follow us @AVerInformation.
About Tech & Learning
For over three decades, Tech & Learning has remained the premier publication and leading resource for education technology professionals responsible for implementing and purchasing technology products in K-12 districts and schools. Our team of award-winning editors and an advisory board of top industry experts provide an inside look at issues, trends, products, and strategies pertinent to the role of all educators –including state-level education decision makers, superintendents, principals, technology coordinators, and lead teachers. Go Back