Five Ways to Fuel Collaboration with an All-In-One Video Conference Camera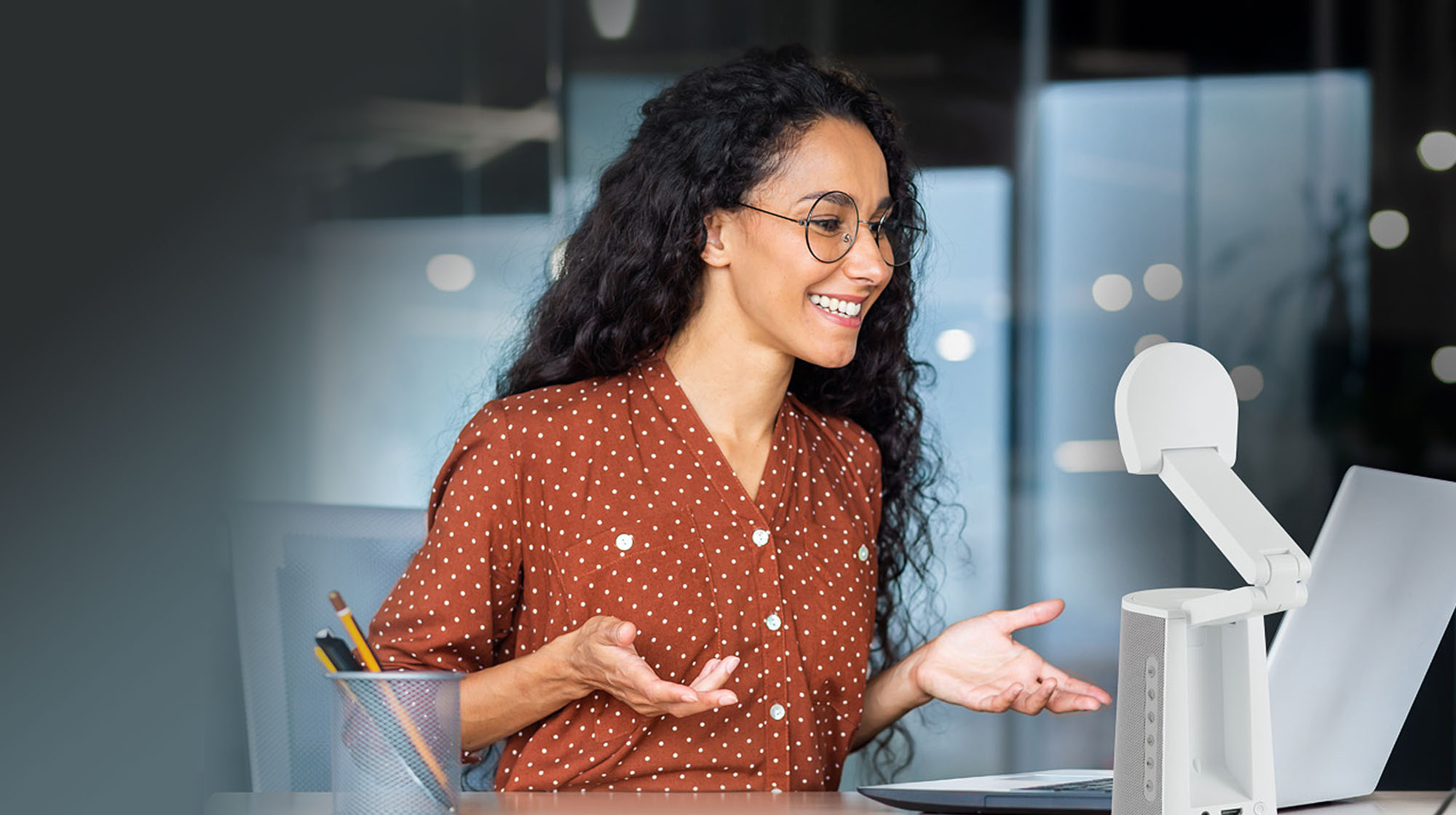 August 16, 2023
It's time to evaluate how workspaces can be optimized for hybrid work. Every corporate meeting space, ranging from small huddle rooms to large conference rooms, has the potential to become an intelligent, intuitive meeting room, but it goes far beyond the traditional work environment, too. With the right technology, the kitchen table, home office desk, co-work hot desk, airport lounge and anywhere on-the-go, can become an effective environment for collaboration and connectivity.
The key to collaboration for on-the-go professionals is an assortment of the right technology. The appropriate devices will connect team members effectively and inclusively from any location around the world. An all-in-one camera can provide the perfect combination of connectivity to solve today's hybrid work requirements. Combining a document camera, microphone and speaker, the AVer A30 All-In-One Video Conference Camera is a multi-functional tool that enhances collaboration and connectivity for hybrid meeting environments.
Document cameras have come a long way since the bulky device that previously required their own rolling cart. Today, these devices work alongside a laptop, desktop, or projector to simplify sharing. Plus, they're not just for sharing documents. The AVer A30 can be utilized as a cross-functional device, operating as either a document camera for sharing materials or a video conferencing camera for collaboration. Its compact design empowers on-the-go professionals to easily take the device with them to ensure seamless collaboration wherever they find themselves. Additionally, the AVer A30 features a microphone and speaker that easily connects to computers and monitors for clear audio recording and playback up to 20 feet away.
The most critical benefit of an all-in-one camera might be the ability to give a close-up view of materials or objects, but here are five thoughtful ways to fuel collaboration with AVer's A30 All-In-One Video Conference Camera.
Provide a close-up view of documents. The A30 features a 13-megapixel, optical zoom camera to deliver an impressive 4K resolution, enabling meeting hosts to present materials or objects in real-time and meeting participants to visualize the most intricate aspects of the subject.
Toggle between document sharing and video conferencing. The AVer A30 can be utilized as a webcam for video conferencing and a document camera to visualize materials to promote flexibility in hybrid environments. With automatic image rotation, the A30 empowers a seamless experience as users switch from a conference camera to a document camera. The image automatically flips while the user uplifts the camera head to ensure it's always operating in the correct direction.
Enhance collaboration with picture-in-picture images. Featuring HDMI and USB output ports, the A30 supports video streaming and allows users to connect to an additional USB camera for picture-in-picture images. The A30 is compatible with all major video-conferencing platforms.
Record and share meetings. The A30 features a microphone and speaker that easily connects to computers and monitors to empower clear audio recording and playback up to 20 feet away. Notably, the A30 is compatible with AVerTouch to provide easy and intuitive functions and cloud sync to enable automatic backups of annotations, captures and recordings.
Promote inclusivity for hearing-impaired with high-quality AI technology. The A30 boasts high-quality AI audio technology, powered by AVer's exclusive algorithm, to produce clear sound with echo cancellation while minimizing background noise to create uninterrupted collaboration. The A30's audio capabilities support enhanced audio for hearing-impaired participants.
An all-in-one collaboration device, like AVer's A30, is perfect for remote collaborators. Designed for huddle spaces, small meeting rooms, the AVer A30 is a versatile camera that bridges collaboration for hybrid meetings in small-to-medium-sized environments. By combining high-quality hardware, including a document camera, speaker, and microphone, the A30 eliminates clutter from the desk and provides a host of features for hybrid collaboration. To learn more about the AVer A30, please visit https://averusa.com/products/conference-camera/a30.
To learn more about the latest video conferencing technology from AVer, please visit https://averusa.com/business/.
About AVer Information Inc.
Founded in 2008, AVer is an award-winning provider of education technology and video collaboration camera solutions that improve productivity and enrich learning. From accelerating learning in the classroom to increasing competitive advantage for businesses, AVer solutions leverage the power of technology to help people connect with one another to achieve great things. Our product portfolio includes Professional Grade Artificial Intelligence Enabled Auto Tracking Cameras, Zoom and Microsoft Teams Certified Enterprise Grade USB Cameras, Document Cameras and Mobile Device Charging Solutions. We strive to provide industry leading service and support that exceeds our customer's expectations. We are also deeply committed to our community, the environment and employ stringent green processes in all we do. Learn more at
averusa.com
and follow us
@AVerInformation
.
Go Back